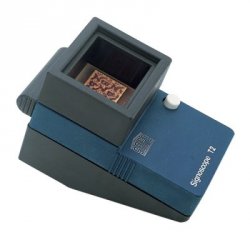 SAFE. Signoscope Watermark Detector T2
Date of issue: 01 Nov., 2014
SIGNOSCOPE WATERMARK DETECTOR T2
A compact portable unit. It's simple and works quickly. Just place your stamp into the Signocope. If there is a watermark, it will show, even on yellow or orange stamps.
If you see a watermark, you can even photograph. The watermark stays visible as long as you like.
Powered by adapter or 2 AA batteries.
Replacement bulb: 2.5V/0.3A - No. 9890SP
St # SAFE T2