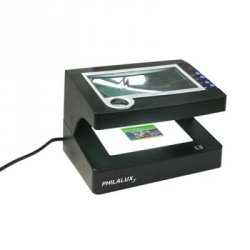 SAFE. Universal tester Philalux3 for stamps, coins, banknotes, gemstones
Date of issue: 01 Nov., 2014
Philalux3 - Universal Tester

To test the stamps, coins, banknotes, securities, minerals, gems, etc.
Recognizes classes of printing types, fluorescence, phosphorescence, and many others.
With magnetic detector (for US banknotes).

equipment:

Big magnifying glass 135 x 65 mm, 3-fold increase.
Cylindrical magnifying glass, diameter 22 mm, 12-fold magnification.
UVC-lamp 256 nm filter for phosphorus.
The UV lamp 366 nm for fluorine: Optimal illumination using U-shaped, 9 watts.
Fluoroscopy, illumination area 125 x 70 mm.
Power supply 220 V, 50 Hz, 90 mA.

Dimensions: approx. 185 x 130 x 125 mm.
St # SAFE 9865