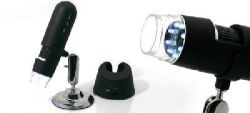 Wireless Digital Microscope Schaubek USB, increasing from 10 to 200 times
Date of issue: 01 Mar., 2012
Enjoy the freedom of working without a cable on your desk with the new Schaubek wireless USB digital microscope!
Take pictures and videos of your stamps, coins and other collectibles. The wireless digital microscope is also very suitable for the investigation of jewellery, textiles, plants, insects or simply as an ideal reading help. From now on you will see the smallest details.
The provided software supports you with numerous functions, e.g. for the measurement of diameters or angular dimensions. Eight adjustable white LED lights ensure an optimal illumination for brilliant pictures. Easy to handle and very user friendly the new Schaubek wireless USB digital microscope is the perfect tool for science, business, school, study, hobby or leisure activities.
Avoid cluttering your desk with cables! "Collecting without limits" - from now with the wireless Schaubek USB digital microscope.
St # Mi Schaubek USB